Shelley Ruha, Director, BNZ Partners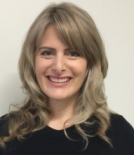 Shelley Ruha joined the executive team in November of 2011 after 22 years with BNZ. She began her BNZ career as part of the graduate programme in 1990, and has since developed leadership experience in roles right across the bank. Prior to joining the ET, she was Head of Institutional Banking and spearheaded the successful campaign to win the INFINZ Bank of the Year in May 2011.
As Director - Partners, Shelley is responsible for a team of roughly 1200 across the country. Her responsibilities also include BNZ's Wholesale, Small Business and Corporate and Property banking teams.