Chris de Wit, Executive General Manager, Strategy, ASB Bank Limited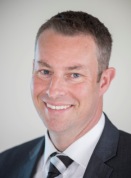 AS EGM, Corporate Strategy Chris is responsible for providing advice to the Board and Executive Management on the development of medium and long term strategic company objectives, the development of high level plans to achieve the agreed objectives, providing analysis and recommendations, managing the integration of ASB's corporate and Business Unit strategies and overseeing the performance of strategic investments.
Chris was also ASB's Chief Internal Auditor. Prior to joining ASB in 2014, Chris had 18 years consulting with Ernst & Young in Europe, Asia and New Zealand. He has worked with several global and local banks consulting on a range of strategy, improvement, risk and change related roles. This included leading EY's Wellington Advisory division and acting as the national Banking and Capital Markets leader for EY.
Outside of work Chris enjoys football, fishing, cricket and spending time with his family.